The new Wheat Law Library website
---
This article is from the fall 2021 issue of Hearsay, the semi-annual newsletter of the Wheat Law Library.
Welcome
In the beginning . . .
"The University of Kansas School of Law Library has embarked on a systematic approach to the maintenance and development of World Wide Web pages to provide the broadest possible access to our resources and services. This effort will be managed by a WebPage Project Executive Committee which includes Joyce Pearson: Associate Director/Project Coordinator; Pamela Tull: Electronic Services Librarian/Project Director; Joe Hewitt: Automation Manager/Technical Coordinator; Chris Jones: Binder Specialist/Elder Law Clinic Home Page Support; and Elizabeth Bartlett: Computer Lab Manager Technical WWW Support"
(August 1995)

Now, 26 years and several versions later, we are excited to introduce the latest Wheat Law Library website. While the URL is still the same as it was for our previous version, nearly everything else has been reorganized, restyled, and reformatted. Don't worry though, we still provide various methods of access to invaluable content and easy-to-use menus as part of our great new look.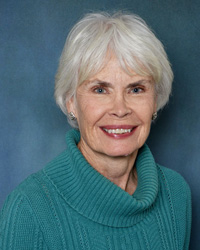 Margaret Hair, the director of external affairs, and Ashley Golledge, former communications specialist, and a host of others worked tirelessly for months to get the new platform, overall format, text and design in place. All that was left for me to do on the new law library site was update library content, move each section to new locations on the site, and create new URLs for the PDFs. Oh, and remember to update both the previous and the new websites until the new one went live!
You will immediately see the difference when you access the homepage at law.ku.edu/library. Lots of white space, a large photo of the Reference Room, and topical selections in six bright blue boxes: Library Hours, Research & Study Guides, Legal Databases, User Services & Policies, Ask a Law Librarian, and About the Library. Directly below the blue boxes is the New Resources link to recently added books, databases and other resources at Wheat Law Library. On the far left of the page, you have easy access to the menu of all other law library content as well as everything on the rest of the KU Law site.
Of special note is our large selection of Research & Study Guides for research of legal topics, as well as a 1L Survival Guide to Wheat Law Library, Cite-Checking for Law Review & Law Journal Staff, Kansas Legal Forms, and a Basic Guide to Legal Research. The listings are updated frequently and new ones are added as new topics arise. Due to our change in platform, however, we could no longer house the documents on our server. Over 1,000 documents have been moved to the SharePoint site, given entirely new (and extremely lengthy) URLs, and may be easily accessed.
The User Services & Policies section includes the Interlibrary Loan Request Service, which offers an easy, online way to request materials not held by our library but often available from other libraries. You can email us at lawill@ku.edu, call 785-864-9264, or just fill out a request form live and in person at the Circulation Desk.
We are very pleased with the new and improved website. We hope you will be, too. As the only "surviving" member of the 1995 WebPage Project Executive Committee, I'm happy to say this latest version is my favorite!
Pam Crawford
Assistant Director for Public and Technical Services