Jennifer Schmidt
---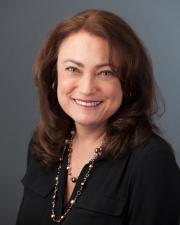 Clinical Associate Professor
Director, 6th Semester in D.C. and Law & Public Policy Programs
Director, Field Placement Program
Biography
—
Professor Jennifer Schmidt works at the intersection of law and public policy. She joined the KU Law faculty part-time in 2008 and became an associate clinical professor in 2017.
Schmidt is a legislative law specialist and self-confessed public policy wonk. Before coming to KU Law, she worked as senior counsel to U.S. Sen. Charles Grassley (R-Iowa), as counsel to the U.S. Senate Judiciary Committee's Subcommittee on the Courts, as a legislative assistant to U.S. Rep. Jack Fields (R-Texas) and, as her first job after college, as a legislative aide to U.S. Sen. Bob Dole (R-Kansas). At the state level, she also served as chief of staff to the speaker of the Kansas House of Representatives. Schmidt was instrumental in federal legislation regarding income tax, the IRS, class action lawsuit reform, intellectual property and veterans' benefits, as well as state legislation regarding criminal law, prescription drugs and bullying among youth.
Immediately following law school, she practiced for two years with the Washington, D.C.-based firm Dyer, Ellis and Joseph, which has since been acquired by Blank Rome LLC.
Schmidt was the anchor and producer of the public affairs television show, "Ask Your Legislator," which ran statewide on Kansas Public Television stations, and she co-anchored the live broadcast of the Kansas governor's annual State of the State speech until the broadcast was discontinued in 2016. She has taught political science, communications studies and journalism courses at the university level, including co-teaching Politics and New Media, a graduate seminar, with then-KU Journalism Associate Dean David Perlmutter.
Schmidt served two terms as senior fellow at the Robert J. Dole Institute of Politics. She was responsible for study groups on "Women in Politics: Career Stories" and "Gender, Race and Religion in Politics." She most recently was the co-chair of the Kansas Youth Suicide Prevention Task Force created by the Kansas Attorney General and The Tower Mental Health Foundation, and a strong advocate for legislation passed in 2019 that created the position of Kansas Youth Suicide Prevention Coordinator.
Education
—
J.D., University of Kansas School of Law, 1994
Managing Editor, Kansas Journal of Law & Public Policy
B.A., Texas Christian University, 1989
Teaching
—
Field Placement Program, Legislative Simulation and Study, Public Policy Practicum, Sixth Semester in D.C., Criminal Prosecution Field Placement
Career History
Associate, Dyer, Ellis and Joseph, 1994-96; Counsel, Senate Judiciary Committee's Subcommittee on the Courts, 1996-98; Senior Counsel, Senator Charles Grassley, 1998-99; Chief of Staff to the House Majority Leader, Kansas House of Representatives, 1998-2001; Chief of Staff to the Speaker of the House, Kansas House of Representatives, 2001-02; Instructor, Pittsburg State University, 2003-06; Senior Fellow, Dole Institute of Politics, 2007-08; Lecturer, University of Kansas, 2008; Host, Producer, KPTS Channel 8, since 2008; Director, Public Policy Clinic, University of Kansas School of Law, since 2009.