Recording the Legacy of Prof. Raymond Goetz
---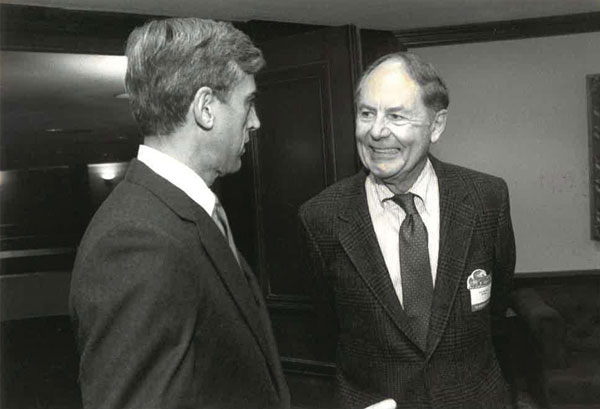 Doug Bonney, L'85, interviewed alumni, faculty for oral history project
As a career labor lawyer, Doug Bonney had always held former KU Law professor Raymond Goetz in high regard. 
Goetz taught University of Kansas School of Law students contracts, labor law and labor arbitration from 1967-1987. At Green Hall, he built a reputation as a demanding professor and master of the Socratic method. Outside the classroom, Goetz built a national profile as a labor arbitrator, settling grievances for organizations including Major League Baseball and United Auto Workers.
Talking with fellow alumni over the years, Bonney, L'85, got a sense he wasn't the only KU Law graduate who found Goetz influential to his legal career. He started researching Goetz's work and considered doing a series of interviews for an oral history project about the professor's legacy.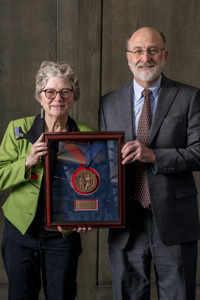 The idea simmered for a few years. When video meetings surged in popularity in 2020 and 2021, Bonney decided it was time to start recording interviews.
"When the pandemic started and I realized how to use Zoom, it became much more possible to do it," Bonney said.
With permission from the Goetz family, Bonney reached out to a list of about 30 KU Law graduates, labor lawyers and former law faculty. The response was strong, with people being "routinely very excited that I was doing this project," Bonney said. 
Born in 1922, Raymond Goetz would have celebrated his centennial year in 2022. He passed away in 2000. The 100-year anniversary aligned with the timing for Bonney's oral history project.
Bonney conducted 16 Zoom interviews between February and May 2022, with contacts including Mike Delaney, L'76; former law professor and dean emeritus Mike Davis; Hon. John Lungstrum, L'70; William Bevan III, L'70; and L. Camille Hébert, L'82. Bonney talked with labor lawyers who had represented unions or acted as neutral arbitrators, as well as academics, judges and law firm partners.
'A no-nonsense practitioner of the Socratic method'
Goetz's legacy loomed large, even before students set foot in his classes. 
"I was a summer starter, so during the summer people talked about Goetz like he was a scary guy and very demanding," Bonney said. "It turned out that I liked him a lot and that I liked the way that he handled his class, that he was serious and all business." 
Goetz expected students to be prepared to answer the questions he asked in class. His demanding approach drew a frequent pop culture comparison.
"A lot of people told me during these interviews that they perceived him as KU's Professor Kingsfield from 'The Paper Chase,'" Bonney said.  
Mike Delaney, L'76, took Contracts with Professor Goetz during both semesters of his first year at KU Law. The "Paper Chase" comparison was a common one, he said. 
"That portrayal was Ray Goetz to a T in the classroom – very formal, very demanding," Delaney said. "He bored in and wouldn't let you off the hook until he was either pretty sure that he had gotten everything useful out of you, or he had made it pretty clear that you ought to be better prepared the next time you were called on."
Being the subject of Goetz's cross-examinations in the classroom was intimidating, Delaney said, but the goal was to help students understand the day's topic. 
"If you were confused about the material or you hadn't thought it through very carefully, your primary concern was being embarrassed in front of your classmates. But that wasn't Ray's point in the way he questioned people," Delaney said. "It was to try to get folks to try to think more deeply about what he had in mind, and it was to get the rest of the class to think, 'Oh yeah, that's what that point is in there for, that's what that case is in there for.'
Bonney remembers Goetz's demeanor being different outside of the classroom – that he was clearly interested in his students and the type of law they wanted to pursue. In an article he wrote chronicling Goetz's career, Bonney describes him this way:
"He always wore coat and tie to his classes and strode into the well of the classroom with a lively step and a confident air. Once in position, Professor Goetz would peer out into the class, raise his arched eyebrows, and – in his booming voice – interrogate the next student in line about the day's topic. Goetz was renowned as a no-nonsense practitioner of the Socratic method, and many first-year contracts students rued the day they were slotted into his section. 
"Outside of class, however, he was an approachable and gregarious person with varied interests, including writing short stories and collecting modern art."
Delaney also remembers Goetz's personal style being different from his classroom one. And the semester after "The Paper Chase" came out in theaters, Goetz made some changes to his classroom demeanor – moving up and down the rows to call on students, instead of calling on them at random.
During his time at KU Law, Goetz also worked as a labor arbitrator. He joined the National Academic of Arbitrators, served as chair of the Trust of the Kansas Public Employees Retirement System, and was secretary of the ABA Labor Law Section. From 1979-1984, he was Major League Baseball's permanent arbitrator on grievances, then worked as a baseball salary arbitrator from 1984-1991. Goetz took phased retirement at KU Law in the early 1980s, fully retiring from teaching in 1987.
"Given his scholarship and his stature in the labor law bar, he could have gone anywhere in the country," Delaney said. "KU was extraordinarily lucky to have him land there and then stay for the rest of his career."
Interview recordings
Bonney shared video and audio recordings of his interviews with the Spencer Research Library at KU. Library archive staff are working to process the digital collection. Researchers can contact the university archivist to access the interviews. 
---
This article appeared in print in the 2022 KU Law Magazine.
Raymond Goetz Labor and Employment Law Support Fund
William Bevan III, L'70, created the Raymond Goetz Labor and Employment Law Support Fund with a gift to KU Endowment. The fund is intended to support programs related to labor and employment law. It will also create an award for third-year students studying labor or employment law.
"He meant a great deal to me as a professor, as a teacher and as a mentor," Bevan said of Professor Goetz.
To make a gift to the fund, visit kuendowment.org/law and enter "Goetz Labor and Employment Law Support (12467)" in the "other purpose" field.
Professor Raymond Goetz: Career Snapshot
1950: Graduated from University of Chicago Law School
1950-1966: Practiced labor law and labor relations at Seyfarth, Shaw, Fairweather & Geraldson
1963: Earned an MBA from University of Chicago while working as a law partner
1966: Joined the KU Law faculty as a visiting professor, with courses including labor law, contracts, and labor arbitration; joined full-time faculty in 1967
1979-1984: Served as Major League Baseball's permanent arbitrator on grievances
1984: Became a primary arbitrator for Ford Motor Company and United Auto Workers; also became a salary arbitrator for Major League Baseball
1987: Retired from KU