Pro Bono Impact: Improving legal, medical outcomes
---

Alumni take on pro bono work through Medical-Legal Partnership
When the KU School of Law Medical-Legal Partnership calls attorney Dwight Alexander, L'11, with a pro bono request, Alexander makes a point to answer the call. 
In part, that's because the Medical-Legal Partnership (MLP) and Alexander's own practice have a similar goal: providing the best legal services possible to people who might not otherwise to be able afford them. 
"We're dealing with folks who pass the hat in order to get the amount of money that's needed," Alexander said. His solo practice, The Alexander Law Firm, focuses primarily on family law and criminal law for clients in Kansas City, Kansas. 
The MLP is a collaboration between the KU School of Law and two health systems: The University of Kansas Health System at KU Medical Center in Kansas City, and LMH Health in Lawrence. Under the supervision of experienced MLP attorneys, KU Law students assist in providing free legal assistance to low-income patients and their families on a broad range of civil matters. 
Local attorneys support that work by helping with MLP cases pro bono, or by taking on matters that fall outside of the MLP's scope of services. Contributors include Alexander and Dana Pugh Tafreshi, L'12. 
"Because of Dana, Dwight and other KU Law alums like them, dozens of clients and their families are able to retain top-tier, excellent legal counsel," said Lindsey Collins, managing attorney for the KUMC MLP. 
"These are people who, very likely, would have no choice but to navigate our complex legal system alone, resulting in poorer outcomes for the most vulnerable in our communities. The time and expertise these alums provide to their clients and families is truly life-changing," Collins said. 
Collins estimates Alexander has contributed hundreds of pro bono or low bono hours over the years. His work includes serving as guardian ad litem in guardianship cases and helping with conservatorship cases. 
MLP clients are referred by medical providers. In some cases, guardianship needs come up when patients become incapacitated from medical issues, and family members need to be able to care for them, Alexander said. 
"They have people who are worthy of the assistance," Alexander said. "People who are doing selfless things, who just need some help to be able to get the appropriate legal footing to do what they need to do for their friends and their families." 
Tafreshi takes several pro bono or low bono cases each year for the MLP through her firm, Tafreshi Law, LLC. Those matters include guardianships and estate planning, with occasional family law referrals. 
"It's important for every attorney to feel that sense of duty and service to give back," Tafreshi said. "It's really essential for our legal system, for those of us in private practice to help fill the gaps that our legal services organizations aren't able to address."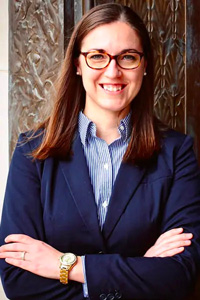 Tafreshi worked with the MLP as a post-graduate fellow, attorney and managing attorney after graduating from KU Law. When she started her private practice in 2017, Tafreshi stayed involved with the MLP by taking on pro bono work. She aims to meet the national challenge many larger law firms have committed to, giving at least 3% of her billable hours to pro bono or low bono work each year. 
"There's no reason why solo and small firms can't try to shoot for that kind of benchmark," Tafreshi said. 
The pro bono work Tafreshi and Alexander do amplifies the MLP's ability to give patients access to affordable, quality legal services that improve health outcomes. 
For Alexander, the importance of providing those services comes down to a simple fact: "You shouldn't have to have all the money under the sun in order to get stuff done," he said.
About the Medical-Legal Partnership
The KU Law MLP started in Kansas City, Kansas, in 2008, and expanded to LMH Health in Lawrence in 2016. The program has provided legal assistance to thousands of low-income patients. In the Medical-Legal Partnership Field Placement Program, students work under the supervision of experienced MLP attorneys to assist in providing free transactional legal assistance to patients and their families. Learn more about the Medical-Legal Partnership.
---
This article appeared in print in the 2022 KU Law Magazine.