Pro Bono Impact: Project Affirmation
---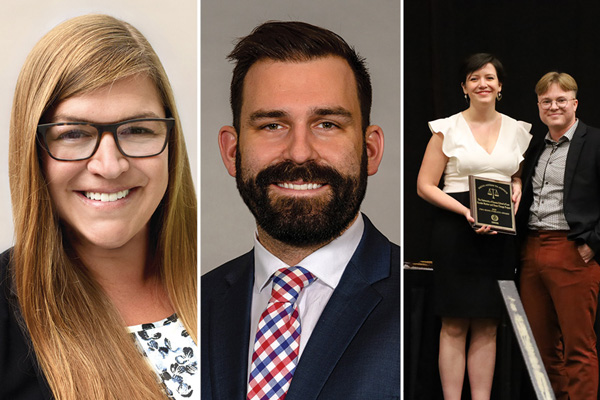 Alumni support gender marker and name change projects in Kansas, Missouri
Mary Olson, L'15, started working on Project Affirmation as a summer associate at Shook, Hardy & Bacon. Project Affirmation offers pro bono legal representation in name change and gender marker amendment actions to transgender and non-binary individuals in the Kansas City area.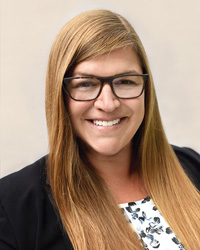 When Olson joined the firm full-time as an associate in the product liability group, she continued working on Project Affirmation and took the lead a couple of years later. The Project's bench now includes 14 attorneys — four of them KU Law alumni (Bill Walberg, Katie Gates Calderon, Lindsey Heinz, and Olson) — and two paralegals. 
Olson regularly hosts trainings to teach attorneys how to assist transgender clients with name change and gender marker amendment actions. The trainings give lawyers knowledge and resources to get active in their communities, Olson said. 
"The goal is that no matter where a person lives, they have access to a local lawyer and ally who is able to help them," Olson said. 
In recognition of her advocacy for the trans community, Olson was recognized by The American Lawyer as a 2022 Young Lawyer of the Year Finalist, and has been honored with the 2022 Up & Coming (Pro Bono) and 2020 Diversity & Inclusion awards by Missouri Lawyers Media.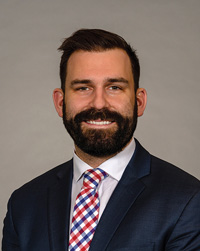 Bill Walberg, L'15, has worked with Project Affirmation for three years. Walberg represents Project Affirmation clients individually and organizes attorneys to participate in drop-in clinics a few times each year. Working with the pro bono clinic is a way for Walberg to give back to the LGBTQ+ community, he said. 
"It really brings me a lot of joy to see my clients get their names changed, their gender markers amended, so they can really live their true lives and true identities," Walberg said.
Gender Marker and Name Change Project
In fall 2019, KU Law students Ellen Bertels and D.C. Hiegert worked with Olson to set up a training for students interested in providing gender marker and name changes for clients in the Lawrence area. 
That training grew into the Gender Marker and Name Change Project. Operating within the KU Legal Aid Clinic at Green Hall, the GMNC Project provides pro bono legal representation for transgender and nonbinary individuals seeking affirming gender marker and name changes. Bertels said she and Hiegert started the project to provide opportunities for KU Law students to do public service, and to serve Kansas' LGBTQ+ community. 
As students, Bertels and Hiegert created their own training sessions for attorneys on gender marker and name changes. They also wrote and published the first guide to making gender marker changes on Kansas birth certificates. 
Students interning with the Legal Aid Clinic continue to provide legal assistance for individuals seeking name and gender marker changes through the Douglas County District Court. 
"When we started the project, it was our goal to help five to 10 Kansans with their name changes — to us, that would mean we had succeeded," Bertels said. "So, to have the Legal Aid Clinic take name changes on as part of their everyday work, and to know they're still serving dozens of low-income trans Kansans three years later, is beyond our wildest dreams." 
Bertels and Hiegert received the 2021 national PSJD Pro Bono Publico Award for their work launching the GMNC Project. This fall, the two 2021 KU Law graduates also received a pro bono award from the Kansas Bar Association.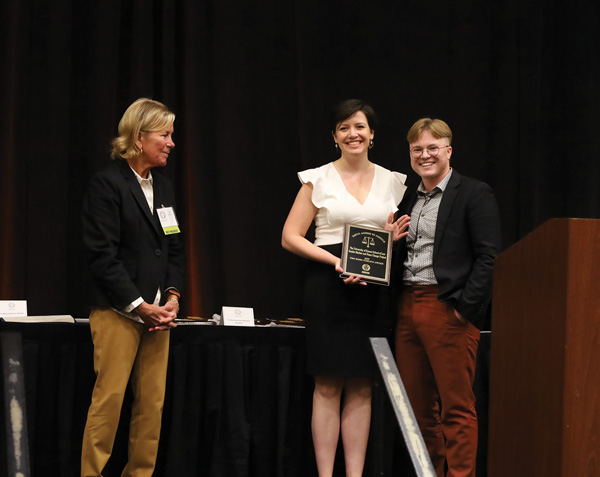 Kansas Name Change Project
Bertels expanded the project into a proposal for the competitive Skadden Fellowship, to offer a similar program through Kansas Legal Services. 
That winning proposal became the Kansas Name Change Project, which provides free legal support to Kansans seeking name changes and ID corrections. Bertels started working with Kansas Legal Services to lead the project in fall 2021. 
Through their own Skadden Fellowship, Hiegert works with the ACLU of Kansas to provide direct representation, community education and policy advocacy for LGBTQ+ Kansans. 
As the Kansas Name Change Project has grown, Bertels has responded to clients' comprehensive legal needs and visited with community groups to expand access. 
"As I got to know clients better and learned more about their lives, we were able to solve legal issues beyond the name change. I've done eviction defense, consumer protection, expungements, and driver's license reinstatements," Bertels said. 
The Kansas Name Change Project and Project Affirmation refer clients to each other. Twice a year, the Kansas Name Change Project partners with the KC Center for Inclusion and Project Affirmation to host a drop-in name change clinic for clients in Missouri and Kansas. 
"It's wonderful to partner with attorneys at Shook, Hardy & Bacon to do such joyful, life-affirming legal work. These clinics are one of my favorite parts of the year," Bertels said.
---
This article appeared in print in the 2022 KU Law Magazine.